Live Yes! INSIGHTS
Arthritis takes a profound and oftentimes devastating toll. It steals time from living the life you want and forces you to abandon your dreams.

Share your experience in a 10-minute assessment to be among those changing the future of arthritis.
What is Live Yes! INSIGHTS?
Live Yes! INSIGHTS is a partnership between the Arthritis Foundation and the arthritis community. The Live Yes! INSIGHTS assessment allows you to share your experience and show decision-makers the realities of living with arthritis. This ongoing, scientific study utilizes a series of validated assessments to shine a light on the realities of arthritis. For better treatments, better policies and better services in your own backyard.
These realties can no longer be ignored. We must band together — researchers, the health care system, product developers, regulators, lawmakers and patients — for a better tomorrow. Now is the time for action — and time for a change.
Change the Future
Your participation will amplify our approach in shaping the future of arthritis care and treatment. Your shared experiences will help serve three distinct needs:
Lead to more effective treatments and outcomes
Develop programs to meet the needs of you and your community
Shape a powerful agenda that fights for you
INSIGHTS Findings
18K+
Assessments submitted
100%
Patients Reported Pain
43%
Reported Difficulty Walking
67%
Miss out on Family Activities
Give 10 Minutes
Share Your Unique Experience
Your voice matters. If you are living with arthritis, take the Live Yes! INSIGHTS assessment to stand up and be heard. Share your realities today for a better tomorrow.
Participate Now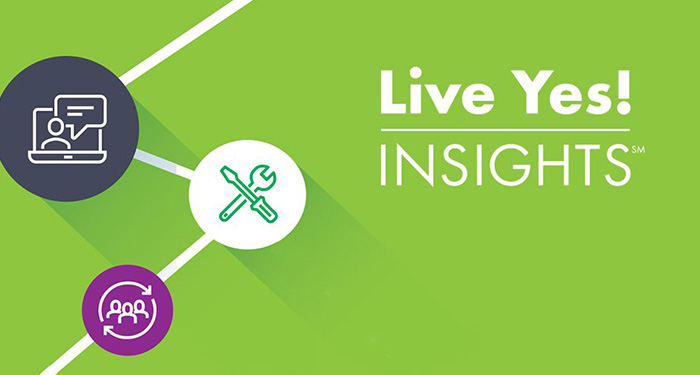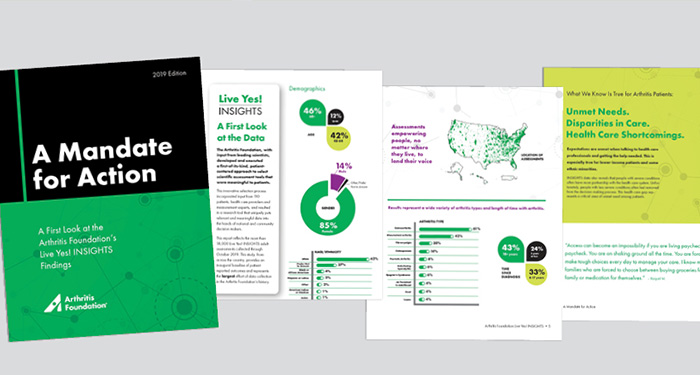 The Eye-Opening Realities of Arthritis
A Mandate for Action
While only people with arthritis can take the assessment, all of us can demand change. Use this eye-opening report as a tool to increase the sense of urgency around arthritis.
Read the Report
I measure my pain by the things that I can no longer do. When my son was first born, my arthritis flared so badly, I was a five on the pain scale every day. That pain meant that I could not hold my newborn son.
Stacy C
FAQ
Who can participate?
Currently, this program is for adults with arthritis. A separate survey that captures the unique needs and experiences of the juvenile arthritis (JA) community is in development and is scheduled to launch in late spring 2020.
What information will I be giving?
The questionnaire is designed to capture responses directly from you about a symptom or some other important aspect of how arthritis affects your daily function and mobility.
Will filling it out take long?
Answering the questions takes most people about 10 - 15 minutes; some finish more quickly, and some take more time.
Will my information be private?
Your information will be stored in a secure database maintained by the Arthritis Foundation's vendor, Qualtrics. It is protected at the same level as banking data. The Arthritis Foundation will never share or allow access to data that is tied to your name or identifying information. Data will only be shared in big batches, called "aggregate" data, with no names, addresses, emails or other personal information connected.
Do I take the survey only once?
You can take the survey as often as you like. You will receive email reminders to take it again so you can capture your arthritis experience at different points in time.
What will happen to the data you gather?
The aggregated results will show a composite picture of life with arthritis, the needs of people who are living with the disease and what their priorities are. The Arthritis Foundation will use the data and share it with our research and innovation partners to conduct research and increase our knowledge about arthritis.
Can I share the survey with my community?
Share the following message and graphic on social media and in emails with other patients in your network. When you do, you act as an "influencer," helping us grow our program and build robust data that can make a meaningful impact on our programs, resources and legislative asks. Make sure to tag the Arthritis Foundation in your post!
Download graphic here.
Sample Facebook post:
"Add your voice. Stand together and be heard. Share your realities of living with arthritis by participating in the Arthritis Foundation's Live Yes! INSIGHTS assessment and help change the future of arthritis. Give 10 minutes today for a better tomorrow by clicking
here
to participate in the survey.
Questions?
For questions about the Live Yes! INSIGHTS program or the INSIGHTS assessment.
Contact Us
Stay in the Know. Live in the Yes.
Join the Live Yes! Arthritis Network. Tell us a little about yourself and you will receive emails packed with the latest information and resources to live your best life and connect with others.